Obituary for Leonard Jung Jun Tom
Surfing since he was 11-years-old and enjoying what he loved to do most, from outside the point at Makaha, "Leo" was riding the first big wave, of the first set, of the first big swell of the season. Always saying it's the way he hoped to die, it was "lights out" when the center of his surfboard rail knocked him unconscious, broke his neck in several places, and instantly paralyzed him from the neck down. His impact vest brought him to the surface and many brave men and women risked their own safety to rescue him, so that he was able to pass away peacefully in his wife's arms on October 29, 2017.

Leo is survived by his wife Jeannie, mother-in-law Shirlie, brother Ronald, half-sister Gabi, sisters-in-law Gui Mei and Shelly, brother-in-law Don, nephew Brian, and nieces Alysa and Jennie.

He was born in the Territory of Hawaii at Queen's Hospital on July 4, 1953. His father, Kam Hin Tom (Chinese), and mother, Johanna Weber Tom (German), met in Germany during World War II. Leo was one good looking hapa haole and known to have women chase him through the mall thinking he was a famous actor such as Jack Lord or Kevin Bacon. He graduated from Radford High School in 1971. Then on May 13, 2004 he graduated a Kapi'olani Scholar with Honors receiving an Associate in Science Degree in Information Technology from Kapi'olani Community College. In September 2014, Leo was designated a Professional Community Association Manager (PCAM), the highest certification in his career field.

Leo had everyone in church praying he'd meet his wife in 1997. With a friend's advice, visiting Hawaii on a family vacation, Jeannie asked Leo to pick her up for church. Leo pulled up in his brown VW van with dried flower leis and carved fish hooks swinging from the rear view mirror, where they first met in front of the Princess Kaiulani hotel in Waikiki. A year-and-a-half later, Leo and Jeannie shared their first kiss at the alter on their wedding day in Haiku Gardens on October 17, 1998.

The first time Leo surfed, his brother had told him, "If you can find a board, I'll take you with me." Leo thought to himself, "I know where there's a board!" He quickly ran over to Foster Village Park and grabbed the old board with no fin everyone used to ride down the hill on. After that first wave at Rockpile, Leo was surfing ever since.

An admirer of well-planned ornamental landscaping, Leo was constantly snapping photos around hotel grounds and enjoyed visiting Hawaii's many botanical gardens. The background picture used for his obituary photo is one he actually took inside the Hawaii Tropical Botanical Garden in Papaikou, HI on the Big Island of Hawaii.

After his mother's near death experience, Leo said she gathered the family and medical staff around her bed and told them, "God has a sense of humor, stress is bad, and love is the most important thing". Practicing his sense of humor, with Hawaii's growing homeless population and colorful characters roaming around, Leo was known to regularly inform whoever he was with, "There's your friend!"

The first time Leo went to church, he decided to put his board in his van and check the surf along the way and if there were any waves he'd paddle out instead. He made his way from Foster Village stopping at every possible surf spot all the way to Kapi'olani Park. He couldn't believe there wasn't even a ripple. Especially in Waikiki, there were always at least 1 foot waves...but nothing. Stopping to talk story at his buddy's lifeguard station he looked at his watch and decided, ah, it's too late already. Just then, his buddy looked up and said, "Eh, what's all those tents in the park?" Leo said, "Oh, some church service. They're having a pot luck." His buddy said, "Pot luck? Eh, go make me a plate!" Leo went over to the church service and was so impacted he thought the Speaker knew he was there. Not even staying for the pot luck, Leo went and bought a plate lunch and drove up to Diamond Head to eat by himself. As he was sitting there, he realized the fellowship of all the people in the church was exactly what he'd been searching for and, yet, he was eating alone. Shortly thereafter, Leo studied the Bible and was baptized on August 5, 1995.

Leo was trained in Kung Fu and performed as a member of the Siu Lum Pai Association. Any sudden moves around Leo could result in his instinctive defensive arm blocks or a swift karate chop to the back of your neck. Leo owned an Ali'i Kai boat and loved to fish, always searching the ocean for bird piles that would determine where the fish were. As a teenager Leo practiced a mucous-less diet, eating more strict than vegan, and he meditated and fasted regularly. He studied hand-writing analysis and to everyone's amazement could tell you what you really didn't want revealed about yourself. His favorite foods were lychee, avocados, cherries, and watermelon. He knew where every lychee and avocado tree was on the island, regularly checking them as he happened to drive by. Having a keen sense of smell, Leo was aware of anyone who walked into a conference room with a flower lei on and would search the crowd until he could find them. His favorite aromas were coming home to Hawaii and smelling the wave of flower leis walking into the Honolulu airport and the sweet fragrance of cherries sitting under the cherry trees in Germany. Leo's careers ranged from one of the original DHL employees, finish carpentry, jewelry making, car sales, timeshare sales and community association management. Leo was a very gracious and humble surfer who never wanted to boast about some of the greats he shared the ocean waves with. He'll now be surfing again with Rell Sunn and Eddie Aikau.

Services will be held at Nuuanu Memorial Park & Mortuary East Chapel on Saturday, December 2, 2017 from 9:00 am to 2:00 pm (Urn Visitation 9:00 am, Service 10:30 am and Lunch 12:00 noon). Live music to be performed by the Bobby Ingano Trio and a performance by personal friend and award winning Kumu Hula Chinky Mahoe of Halau Hula O Kawaili'ula.

A "Paddle Out" will be held at Kaiser's on Sunday, December 3, 2017 at 2:00 pm.

*Additional news article in Lee Cataluna's column in the Sunday, November 26, 2017 Honolulu Star Advertiser. Article entitled, "Devoted surfer had big-hearted personality" about Leonard Tom.
To send flowers or a remembrance gift to the family of Leonard Jung Jun Tom, please visit our Tribute Store.
Previous Events
Visitation
Nuuanu Memorial Park & Mortuary, East Chapel
2233 Nuuanu Avenue
Honolulu, Hi 96817
Service
Nuuanu Memorial Park & Mortuary, East Chapel
2233 Nuuanu Avenue
Honolulu, Hi 96817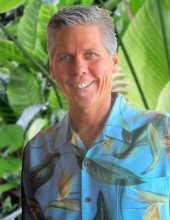 Thank you for sharing your
memory of Leonard
Provide comfort by sending fresh
flowers from our local florist.
No thanks, please don't show me this again.